Waxing Frequently Asked Questions
What wax do you use for what areas?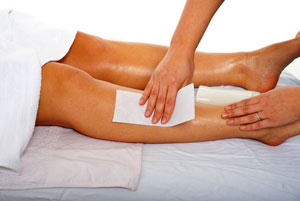 Waxing removes hair from the body by the roots of the hair, by using hot wax (non strip wax) or warm wax (strip wax).
Hot wax is used to remove thicker, coarser hair such as bikini area or underarm, as clients find it a less painful experience. Hot wax is applied to the skin with spatulas, left to slightly set on the area and then removed by the edges of the wax.
Warm wax or cool wax as it is sometimes referred to, is used to remove hair on the larger parts of the body. The wax is applied in the direction of the hair growth, using a spatula and removed using a paper strip.
How should I prepare for the waxing treatment?
Please exfoliate gently on a regular basis (two to three times a week) and moisturise daily. This will remove the dead layers of skin and keep the skin soft making it a more pleasant waxing experience.
How long should the hair be and how long will the results last for?
Hair growth should be at least 1 cm long for the best hair removal experience. Please pre-trim your hair where possible before your appointment if your hair is longer than 1 cm. Think of the length of a grain of rice! If the hair is too short, it won't come out and you will be charged for your appointment time.
The effects of waxing can last between 3-6 weeks depending on your hair type and the stage of your hair growth. Heat stimulates hair growth so hair will grow faster in the summer time or if you are exposed in a hot environment.
Regular waxing will mean that eventually your hair will grow at the same stage of the hair growth cycle, which means that the results from waxing will last longer. Hair grows back finer and will look more tapered. Regularly moisturising your skin and exfoliating regularly will help to maintain the skin and reduce ingrown hairs.
Will it hurt?
Waxing can be painful depending on individual's pain threshold. If you are sensitive or have a low pain threshold take a couple of painkillers such as Paracetamol or Nurofen before your appointment. Ladies who are menstruating may also find waxing more painful so if possible, try avoid being waxed at that time.
Reactions
Typical reactions to waxing can include temporary redness, soreness and pimples and ingrown hairs. Please follow the recommended aftercare advice as this will help you to maintain the effects for longer.
Will I get spots?
Occasionally men may experience spots a couple of days after waxing, particularly in the chest or back area. This is a histamine reaction and quite common. This should calm down and regular exfoliating and moisturising will help. Applying moisturiser containing tea tree and/or lavender will help calm the skin and reduce the spots outbreak.
Can anyone be waxed?
Waxing is not suitable for clients who have taken Accutane, or any products that contain Retin A, Renova, Differin or other types of skin thinning acne care medication. Clients who have diabetes will be asked to give permission so your doctor can be contacted for permission to be waxed. An appointment cannot be booked until this is received. There will be other circumstances when it may be necessary to contact your doctor. This is for your own safety and peace of mind that you are dealing with a professional therapist. If you have a tattoo then you should wait at least 6 months, ideally a year until the tattoo is fully healed before being waxed if the tattoo is in an area you wish to be waxed.
A patch test is necessary before any waxing treatment with Orchid Therapies even if you have been waxed previously. A consultation form will need to be completed prior to your first treatment. This is for your safety.
Waxing immediately before a sunny holiday?
Leave it a couple of days before exposing your body into the sun after waxing to allow any redness to disappear.
Waxing Hygiene
Please ensure the skin is clean prior to your appointment. Wipes will be provided for you to freshen up in the intimate areas, if necessary.
Waxing and Piercings
Please remove any piercings relevant to the area being waxed prior to treatment.
Trimming service
Hair trimming service is available at an additional cost. If in doubt please leave the hair growth and I will advise and trim accordingly.
Intimate waxing
Male and female
Training in female intimate waxing has been provided by Kim Lawless, aka the UK's Wax Queen and by Andy Rouillard of Axiom Bodyworks for male intimate waxing, also known as the UK's wax Daddy. Over 18s only for intimate waxing.
Underwear is removed when receiving an intimate wax at Orchid Therapies. This makes the process easier and quicker. When waxing with me, please leave your modesty at the door. Don't be shy, I have seen it all before!
Wipes are provided for freshening up if required although please try and have a shower/pre-clean before your appointment. This makes a more pleasant experience for both me and you.
Male Waxing
Please read the male waxing page for further information.
Contact Liz at Orchid Therapies
Liz Williams is a professionally trained (ITEC) complementary and beauty therapist, specialising in wellbeing treatments and intimate waxing. To find out more about any of our treatments or to book an appointment, email liz@orchid-therapies.co.uk or text or telephone 07796 270 162 today.