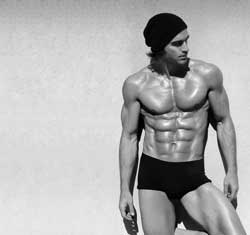 Male grooming has seen a big increase in the past few years in the beauty industry as men have become more conscious about looking and feeling good. When it comes to waxing, some men are encouraged by their other halves to look good and to lose the cave men look, some men wax for vanity or hygienic reasons and some men need to be smooth for either their work or for sporting activities. Whatever reason you have, you can be confident you are in capable hands when choosing Orchid Therapies for all of your waxing needs.
Trained by Andy Rouillard of Axiom Bodyworks, the UK's leading wax expert for men, insured by BABTAC, Orchid Therapies observes the occupational standards as recommended by HABIA (the government approved standard setting body for the UK for the hair and beauty industry).
Male Intimate Waxing
What happens in an intimate waxing treatment?
Wipes are provided for you to freshen up. You will lie on the couch with your underwear removed. You will then be asked how much hair and where you would like it removed from. If hair needs to be clippered to start the treatment this will take place at that point. This form of clippering is included in the price. Requests for additional clippering will be charged for.
What if I get aroused during intimate waxing?
It happens! Please don't worry as I will ignore it and carry on working. However any inappropriate behaviour including comments will not be tolerated and may be reported to the police.
I am nervous and feel embarrassed about being waxed "downstairs"?
Most people are nervous on their first appointment for intimate waxing but I am as gentle as I can be when waxing. Your comfort is key. If you feel a bit embarrassed, please don't worry, I have seen it all before!
What wax do you use?
Warm wax (strip wax) is used for legs, arms, back, chest. Hot wax (non strip wax) is a peelable wax applied onto the skin and removed directly from the skin without using paper strips. Hot wax is used for removing coarser hair such as underarm and pubic hair as it is gentler on the skin. Outback Organics hot wax is used, a fantastic wax with great results. The wax is always tested on both myself and you to check the temperature before I start waxing so there is no risk of burns.
Please also read the Waxing page for Frequently Asked Questions about waxing.
Please call Liz on 07796 270162 to make an appointment and to discuss your suitability. No bookings will be taken for male intimate waxing without a patch test and a face to face discussion in the first instance.
Contact Liz at Orchid Therapies
Liz Williams is a professionally trained (ITEC) complementary and beauty therapist, specialising in wellbeing treatments and intimate waxing. To find out more about any of our treatments or to book an appointment, email liz@orchid-therapies.co.uk or text or telephone 07796 270 162 today.