Our Waxing Treatments
Hair removal is not a modern concept. Our citizens in Ancient Egypt, India, Rome and Greece used hair removal methods such as early forms of razors or tweezers, sea shells, pumice stones, sugaring and threading to remove body hair as it was considered to be more hygienic and a sign of wealth. The removal of hair filtered over to the West in the Middle Ages but it was from the 1940's onwards with the introduction of bathing suits and bikinis in the 1960's that hair removal became popular .
Hair removal these days can take the forms of waxing, tweezing, depilatory creams, threading, electrolysis and laser treatment. At Orchid Therapies waxing is offered for hair removal treatment and both hot wax and warm wax (non strip and strip wax are used for different areas).
Waxing removes hair from the body by the roots of the hair, by using hot wax (non strip wax) or warm wax (strip wax).
Hot wax is used to remove thicker, coarser hair such as bikini area or underarm, as clients find it a less painful experience. Hot wax is applied to the skin with spatulas, left to slightly set on the area and then removed by the edges of the wax.
Warm wax or cool wax as it is sometimes referred to, is used to remove hair on the larger parts of the body. The wax is applied in the direction of the hair growth, using a spatula and removed using a paper strip.
Benefits of waxing
Becoming hair free can make you feel clean, fresh and more hygienic, particularly useful for those working or living in a hot environment
Partners can prefer it for a smoother feel and for intimate waxing, enhanced sensitivity and enjoyment
Popular amongst sports professionals: athletes, cyclists and swimmers and bodybuilders. A hair free body can also enhance muscle definition
Piercings and tattoos can be shown off
Regrowth eventually becomes thinner and softer
After care advice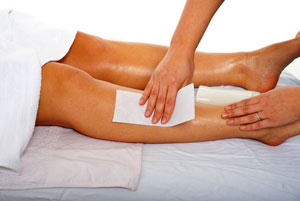 For the next 24-48 hours:
Avoid wearing tight clothing as this can cause irritation on the skin and ingrown hairs.
Avoid exercising or other heat related activities including sexual activity that may irritate the skin.
Try not to touch the freshly waxed areas and if you do, make sure hands are clean.
Avoid swimming, saunas, Jacuzzis, sunbeds and sunbathing after treatment.
Bathe in warm not hot water (bath or shower) and avoid heavy perfumed products for the skin.
Contact Liz at Orchid Therapies
Liz Williams is a professionally trained (ITEC) complementary and beauty therapist, specialising in wellbeing treatments and intimate waxing. To find out more about any of our treatments or to book an appointment, email liz@orchid-therapies.co.uk or text or telephone 07796 270 162 today.