Indian Head Massage is a safe, effective massage focused on working over the tension commonly found within the back, neck, shoulders and head. Indian Head Massage may help to promote hair growth and is also a great reliever of stress, particularly important in the world of today. Although Indian Head Massage is not performed all over the body, the massage is viewed as a holistic treatment as the massage has beneficial effects on the whole body, mind and spirit.
Benefits of Indian Head Massage
In all types of massage therapies, the intention is to relax the soft tissues, increase delivery of blood and oxygen to the massaged areas, warm them, and help the body to relax.
The effects of massage are both physiological (relating to the structure of the body) and psychological (relating to the mind).
Relief from everyday aches and pains
Reduce stress
Increase relaxation
Address feelings of anxiety and tension, and aid general wellness.
Massage therapy can also be used in support of other therapies to assist in the rehabilitation of muscular injuries.
History of Indian Head Massage
Indian Head Massage is derived from Ayurvedic medicine. Ayurveda is a traditional healing system of India and has been practiced for thousands of years meaning "the science of life and longevity" and promotes the use of herbs, massage, diet, cleansing, yoga, meditation and exercise. Massage is seen as preserving the body's life force and energy.
Traditionally, Indian Head Massage has been used for thousands of years within Indian families. Indian Head Massage was originally part of the women's grooming routine using oils in order to maintain their hair and scalp, and daughters were taught by their mothers to do this regularly. Barbers in India have developed a more rigorous and stimulating massage known as "champi" to offer to their clients as well as a hair cut. The western word "shampoo" is derived from the Indian word "champi".
Indian Head Massage is an integral part of Indian family life and it is the custom for babies to be massaged every day from birth to when the child reaches three years old, therefore encouraging the bonding process. From the ages three to six the children receive a regular massage normally on a weekly basis and from the age of six the children are taught to give other family members regular massages. Indian Head Massage is not restricted to the family home and in India the massage can often be performed on street corners, the beach and marketplaces.
Indian Head Massage was introduced to the West in the early 1990s by an Indian man known as Nerandra Mehta when he came over to England to study. He quickly realised that the massage technique was not known in England and he missed receiving his massages, so when he went back to India he researched and developed the massage and the techniques to include the neck, shoulders and upper arms as this would be more beneficial for western society.
Indian Head Massage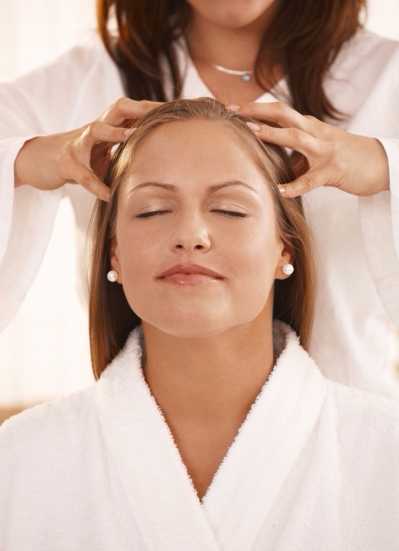 During the massage treatment clients are sat comfortably on a chair, partly dressed and covered with towels with the exposed area of the body uncovered only whilst that particular body part is being worked on. The massage starts at the upper back and gradually works upwards towards the head having worked over the the upper back, shoulders, upper arms and the head, face and ends with some rebalancing moves.
At Orchid Therapies, Grapeseed oil or Sweet Almond oil is used during massage treatments. Indian Head massage can be given without the use of oils (and on the hair) and/or through clothes if so preferred, ideal if you need to go out or go to work after your treatment.
Indian Head massage is a treatment that will leave you feeling relaxed, refreshed and rejuvenated!
After receiving a massage treatment, a drink of water will be offered to help flush out toxins. Where possible avoid doing anything strenuous or stressful after receiving a massage to help maintain the benefits of the massage.
Ideally showers or baths should be taken prior to receiving a massage.
Please also read the Massage Therapy page.
Contact Liz at Orchid Therapies
Liz Williams is a professionally trained (ITEC) complementary and beauty therapist, specialising in wellbeing treatments and intimate waxing. To find out more about any of our treatments or to book an appointment, email liz@orchid-therapies.co.uk or text or telephone 07796 270 162 today.