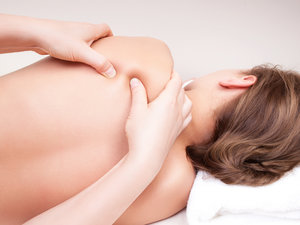 Deep tissue massage is a massage that aims to break down and release the tension found in the deeper muscles, tendons and ligaments of the body. Deep tissue massage works on a deeper level than normal full body massage by applying more pressure over the areas concerned. Slow and deeper massage techniques are used across the muscles to free adhesions, knots and painful areas. Working with you, the client, specific techniques are used including breath and movement.
Repetitive jobs can cause discomfort and can eventually lead to the gradual development of imbalances and lactic acid in the muscles which can lead to pain and tension. Deep tissue will help free trapped nerves, allow oxygen to the circulation system, help speed up the lymphatic (waste removal) system and allows the body to relax and recover. Deep tissue massage also helps to stretch out and re-align the muscles, as damaged muscles can be held in a shortened position by the nervous system trying to protect the muscles.
Trigger points are myofascial tissue (fibrous tissue that wraps around and separates the muscles). Finding and working over trigger points can be painful but quite satisfying and pain free once released, allowing the oxygen and nutrients to flow properly around the circulation system and improving the tone and activity of the muscles.
Benefits of Deep tissue massage
In all types of massage therapies, the intention is to relax the soft tissues, increase delivery of blood and oxygen to the massaged areas, warm them, and help the body to relax.
The effects of massage are both physiological (relating to the structure of the body) and psychological (relating to the mind).
Relief from everyday aches and pains
Reduce stress
Increase relaxation
Address feelings of anxiety and tension, and aid general wellness
Massage therapy can also be used in support of other therapies to assist in the rehabilitation of muscular injuries
Deep tissue massage is suited to:
Athletes, people who like exercising regularly or occasionally
People with chronic joint or muscle injuries
People who perform repetitive tasks
People who are experiencing stress
A greater range of movement is generally experienced after the massage with increased flexibility and movement.
Please also read the Massage Therapy page.
Deep tissue massage treatment
In a typical massage therapy session before the first treatment, a consultation will be undertaken to discuss medical history, symptoms presenting and outcomes. The consultation is completely confidential. If it is deemed inappropriate to perform a massage due to medical history, an alternative treatment will be offered, where possible.
During the massage treatment clients are covered with towels with the exposed area of the body uncovered only whilst that particular body part is being worked on.
Oil is used to reduce friction on the skin and at Orchid Therapies, Grapeseed oil or Sweet Almond oil is used during massage treatments.
Releasing tension can be painful but during a deep tissue massage you are in control, if it's too much the massage can be adapted to ensure you receive the most effective treatment. During the treatment knuckles, forearms, hands, fingertips, elbows and wrists are used by the massage therapist.
After receiving a massage treatment, a drink of water will be offered to help flush out toxins. Where possible avoid doing anything strenuous or stressful after receiving a massage to help maintain the benefits of the massage.
Ideally showers or baths should be taken prior to receiving a massage.
Contact Liz at Orchid Therapies
Liz Williams is a professionally trained (ITEC) complementary and beauty therapist, specialising in wellbeing treatments and intimate waxing. To find out more about any of our treatments or to book an appointment, email liz@orchid-therapies.co.uk or text or telephone 07796 270 162 today.