Manicure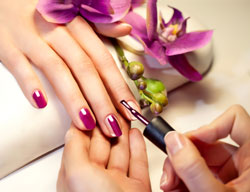 During a typical Manicure the hands are soaked, nails are cut, filed and shaped, cuticles are softened and trimmed, hands are exfoliated and the hands and lower arms are massaged. Nail polish is applied at the end of the treatment.
Benefits of a Manicure
Helps to reduce the wrinkles
Improves appearance of skin tone
Boosts blood flow in the hands and lower arms and increases faster lymphatic drainage to remove toxins
Exfoliation increases faster skin cell renewal by removing the dead skin cells
Enhances health of the hands
Ensures cuticles are kept neat and tidy
Nail growth is stimulated and nails become stronger
Massage helps to relieve aching joints and muscles and encourages flexibility of the wrists and hands
Contact Liz at Orchid Therapies
Liz Williams is a professionally trained (ITEC) complementary and beauty therapist, specialising in wellbeing treatments and intimate waxing. To find out more about any of our treatments or to book an appointment, email liz@orchid-therapies.co.uk or text or telephone 07796 270 162 today.