Facials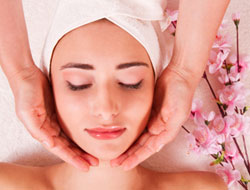 A facial treatment will cleanse, tone and nourish the skin promoting faster cell regeneration, a smoother appearance and a reduction of congestion/redness in the skin. Facial treatments are suitable for men, women and teenagers/young adults.
Benefits of Facials
Deeper cleansing of the skin
Correct products are selected to work with and boost your skin's appearance
Congestion on the skin is unblocked by massage and application of masks
Skin circulation is boosted and skin tone appears more even
Reduction of redness and blotches on the face
Assists with hydration and re-balancing of the skin
Massage aids with lymphatic drainage, releases toxins and helps to minimise the appearance of fine lines and wrinkles
Reduces puffiness
Exfoliation unlocks pores
Extraction of comedones (blackheads)
Softening of the skin with hot towels and steaming to open pores to allow the penetration of the essential oils used in the massage
Products
Massage oils are handmade by Liz at Orchid Therapies using beautiful aromatherapy oils blended for your skin type. The products used for cleansing, toning and moisturising the face are made by KAESO using the Calming, Rebalancing and Hydrating range. The Kaeso products used are free from chemical additives, parabens, sulphates, propylene glycol and mineral oils. Masks are made from natural derivatives and are mixed with either purified water, Rosewater or Orange Flower water to refresh and soothe.
Facial Treatment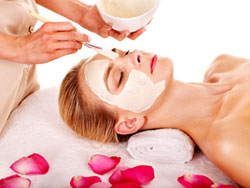 After a consultation for new clients, at Orchid Therapies a facial treatment will start with an application of cleanser to the face for the superficial cleanse and the deeper cleanse, an application of a toner, massage and moisturiser. Depending on what type of facial chosen, facials may also include a skin analysis, exfoliation, hot towels applied to the face and neck, steaming, extraction, a facial massage to include the neck and shoulders and application of either ready-made or mixed masks tailored to skin type upon the face.
Aftercare advice
Make regular appointment every 2-4 weeks to improve and maintain the condition of your skin.
Avoid wearing make up for 24-48 hours in order to let your skin breathe and for the treatment to take full effect.
Avoid using any alcohol based products on your skin as this strips the skin of its natural oils and upsets the balance.
Between appointments try and develop a skin care routine by cleansing, toning and moisturizing every morning and evening. Use an eye gel to reduce the appearance of fine lines.
Use a moisturiser containing an SPF factor of at least 25+ for the face and neck to include the décolleté area to minimize any sun damage from being outside.
Exfoliate gently 4-5 days after the treatment to keep the pores clear and refined.
Avoid the sun and sun beds or heated areas e.g. saunas, Jacuzzi's, steam rooms for at least 48 hours after treatment.
With regular massage, sweet almond oil can help to reduce fine lines and wrinkles.
Drink at least 2 litres of water a day. Water helps to keep your skin hydrated and will help to keep you looking younger.
Remove all make up before going to bed. This will allow your skin to breathe at night and regenerate and to stop bacteria building up as you sleep.
Contact Liz at Orchid Therapies
Liz Williams is a professionally trained (ITEC) complementary and beauty therapist, specialising in wellbeing treatments and intimate waxing. To find out more about any of our treatments or to book an appointment, email liz@orchid-therapies.co.uk or text or telephone 07796 270 162 today.