Our Face Treatments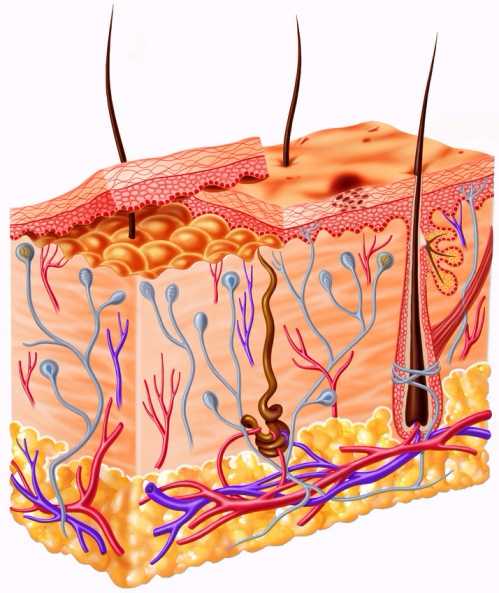 The skin is the largest organ in the body and is made up of the epidermis (outer layer) which supports the dermis underneath. The epidermis contains 5 layers and grows upwards culminating in what is known as the horny layer (Stratum corneum) where the shedding of the skin (desquamation) takes place. This process generally takes about 28 days for new cells to appear. The dermis contains hair follicles, nerves, pain receptors, sweat glands, sebaceous glands, collagen, elastic tissue and blood vessels.
As we get older the collagen and elastic tissue found in the dermis decreases and our skin start to sag, becomes thinner and we start to notice wrinkles appearing. Having regular facials will help lift and tone the face and help slow down the ageing process with the facial massage by minimising fine lines and wrinkles, promoting fresher radiant looking skin with improved circulation and skin tone.
Your face is the first thing that people notice about you. Diet, water intake and the environment is really important for your skin to be in tip top condition.
General skin care advice
Alcohol and smoking will hasten the ageing process.
Wear sun hats and protect your face as much as possible when outdoors in the sun.
Lack of sleep will make your skin look dull and tired. Try and have at least one early night a week.
A healthy diet is essential for the body to function properly. Exercise combined with healthy eating on a regular basis; your face and body will thank you!
Read more about facial skincare here.
Eyes are equally important and eyebrow and eyelash tinting are popular treatments to enhance the eyes. If you are looking for mascara and panda free eyes read more about eyelash and eyebrow tinting here.
Contact Liz at Orchid Therapies
Liz Williams is a professionally trained (ITEC) complementary and beauty therapist, specialising in wellbeing treatments and intimate waxing. To find out more about any of our treatments or to book an appointment, email liz@orchid-therapies.co.uk or text or telephone 07796 270 162 today.