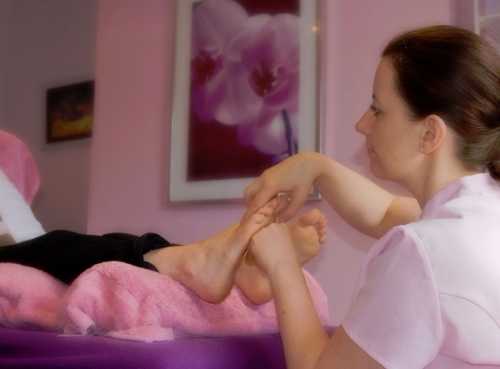 Reflexology is a holistic complementary treatment that uses techniques to manipulate and treat the feet and hands to work on the whole body bringing the body back into balance, (known as homeostasis). Reflexology uses the feet (and hands) as a map of the body so the Reflexologist can identify issues with the client and treat accordingly. Reflexology is not a foot massage although some massage movements are used. By applying pressure to parts of the feet (reflexes) other corresponding areas within the body will feel the benefit. Over 7000 nerve endings are found within the feet and are worked over during a treatment. Blockages of energy are released encouraging a free flowing energy all over the body. Reflexology is a safe, relaxing treatment.
Benefits of Reflexology
Reflexology can be a wonderfully relaxing experience where time can be taken out from everyday pressures. The Reflexology treatment will help clients relax which can help improve mood, aid sleep and relieve tension. The result is an overall sense of wellbeing.
History of Reflexology
Reflexology was introduced to the western world in the mid twentieth century but the principles of massaging the feet and using acupressure (using thumb pressure points) and acupuncture (inserting needles into certain points of the body) are thought to have influenced the development of reflexology. Evidence can be seen dating back to the ancient Egyptians from around 2000BC of what appears to be foot massages. Native American Indians also work on the feet to maintain physical, mental and spiritual balance.
Dr William Fitzgerald (1872 – 1942) was an American Ear Nose and Throat surgeon who discovered that by squeezing certain points within the body, another part of the body would be anaesthetised. He started to perform minor surgery on people using these techniques. He split the body into 10 zones to work with and is the founder of Zone therapy, an early form of Reflexology.
Zone therapy developed and in the early 1930's a physiotherapist Eunice Ingham researched zone therapy further and developed foot reflexology by mapping out Fitzgerald's zones onto feet. Eunice Ingham is known as the Mother of Reflexology. Her work is continued by her nephew today.
Reflexology treatment
Before the first treatment begins a detailed consultation is undertaken to find out more information. There are some cases where it will not be possible to perform a Reflexology treatment but this will be explained this in more detail if appropriate.
After the consultation, clients remain dressed but barefoot and are seated comfortably on the massage couch. The treatment is started by undertaking a foot reading allowing the therapist to identify any issues that may be present. Both feet are worked on starting with the right foot using specific pressure techniques over the reflexes with the aim of the body being able to heal itself. Particular reflexes worked over may feel sore or tender, but Reflexology itself is not painful to receive. If clients have tickly feet, please don't worry. The techniques used are firm and not ticklish.
No oil is used in Reflexology. Corn starch is used which has a similar texture to talcum powder. It is possible to perform Reflexology without using any medium.
Nail polish on the toes should be removed before treatment.
Please note conditions are not diagnosed. Some energy imbalances within the body can be picked up during the treatment but these will not be a medical diagnosis.
After the treatment a drink of water will be provided and after care advice to include self treatment where appropriate, to ensure the benefits of Reflexology are maintained. After the treatment, clients may experience some effects such as headaches, an increased need to go to the toilet, increased tiredness and an increase in emotions. This is nothing to worry about as the body is adjusting and the effects should disappear within 24-48 hours.
Contact Liz at Orchid Therapies
Liz Williams is a professionally trained (ITEC) complementary and beauty therapist, specialising in wellbeing treatments and intimate waxing. To find out more about any of our treatments or to book an appointment, email liz@orchid-therapies.co.uk or text or telephone 07796 270 162 today.