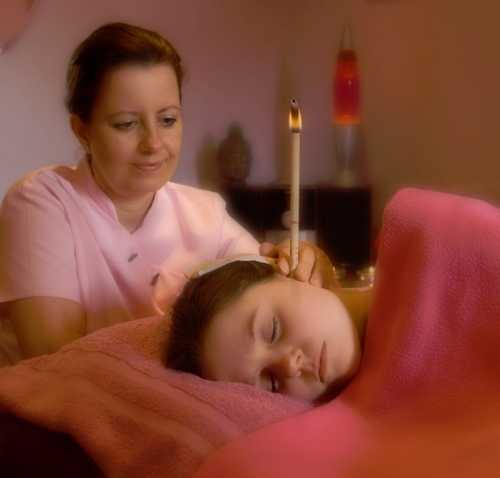 Ear candling is an ancient remedy used in traditional medicinal ceremonies to cleanse, purify and heal. Hopi Ear Candling, also known as Thermo Auricular Therapy provides a non-invasive treatment to improve problems found in the ears, nose and head area. The name Hopi comes from the Hopi Indians, a native American Indian tribe renowned for their medicinal knowledge and spirituality. The word HOPI means peaceful people.
Hopi Ear Candles are not actually candles but are hollow tubes made from linen, infused with pure beeswax, honey extract, St John's Wort, chamomile and sage. The candles used at Orchid Therapies are BIOSUN candles, handmade and organic. BIOSUN candles are certified medical products according to EC guidelines 93/42 (EEC). The candles are marked with the word HOPI, have a red line (maximum burn line) and have a filter inside the candle.
Benefits of Hopi Ear Candling:
Stimulation of blood and energy flow
Has a calming and relaxing effect
Reduces stress levels
Safe and gentle treatment for all ages
Hopi Ear Candles may alleviate:
Pressure in the ears
Tinnitus/ringing/noises in the ears
Hay fever and Rhinitis
Sinusitis, headaches and migraines
Excessive or compacted ear wax
An uncomfortable experience of ear syringing
How does Hopi Ear Candling work?
Before treatment can be given a consultation will take place and ears are inspected with an otoscope (a medical instrument like the Doctors use). This is so the therapist can be satisfied a Hopi treatment is the right treatment to offer. Both ears must be treated at the same time, it is not possible to treat one and not the other. Children can be treated provided they remain very still. Hopi Ear Candling is a natural alternative to syringing of the ears.
The candle is inserted into the ear and then lit, taking about 12 – 15 minutes to burn down to the red line. The candles work on a "chimney principle" assisting with the drawing out of any impurities, where the natural process of removal within the ear will be encouraged within 24-48 hours after treatment. By burning down, the candle massages the ear drum and ear canal regulating ear pressure and providing an overall sense of relaxation and peace. Gentle heat from the candle stimulates the circulation systems - both blood and lymph - and stimulates certain energy points. The filter stops any residue going back into the ear so it is safe. Please note Hopi Ear Candling should always be carried out by a trained therapist.
Hopi Ear Candling treatment
Hopi Ear Candling is administered with the client lying on the massage couch with the therapist treating one ear at a time. When the candle is lit, fizzing or crackly noises may be heard as the candle burns down. Generally clients feel very relaxed and calm whilst receiving the treatment, and may even fall asleep.
A lightly pressured facial massage is given at the end of the treatment including working over the sinuses and Eustachian tubes, to improve the circulation and energy flow arising from the treatment. Water will be given after treatment for the client to drink.
Contra-indications to Hopi Ear Candling:
Perforated ear drum
Lack of ear drum
Acute sinusitis
Acute ear infection
Inflammation of the ear
Grommets, drains or ventilation tubes fitted
Allergies to the ingredients within the Hopi Ear Candles
Contact Liz at Orchid Therapies
Liz Williams is a professionally trained (ITEC) complementary and beauty therapist, specialising in wellbeing treatments and intimate waxing. To find out more about any of our treatments or to book an appointment, email liz@orchid-therapies.co.uk or text or telephone 07796 270 162 today.